Testicular ("FNA") Mapping in Atlanta, GA
Azoospermia or no sperm in the ejaculate can be a surprising diagnosis for a man. Azoospermia can be a tough condition to treat, and often, couples are left wondering about the next steps and their chances of parenthood.
While azoospermia is common (~1 in 100 men) and can be a tough to treat, I want you to know that this is NOT the end of the road. While there are many ways to achieve parenthood, my mission is to put your goals first.
For couples that desire biological parenthoold, there are generally two ways to approach no sperm in the ejaculate:
MicroTESE (microdissection testicular sperm extraction) – an advanced microscopic sperm retrieval surgery that carries a 50% success rate in finding sperm.
Testicular FNA Mapping – a diagnostic clinic procedure that provides a map of the testes, and helps us decide the best way forward
After understanding your goals, we decide the best way forward together.
Why Testicular Mapping?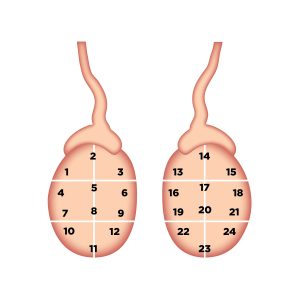 Offered to men with no sperm in the ejaculate, testicular mapping is a minor clinical procedure that can accurately diagnose whether sperm is being produced in the testes. With this procedure, Dr. Kapadia creates a map or grid (see image below) of the testes. The study tells us whether:
Sperm is being produced in many areas
Sperm is being produced in only a few areas
No sperm is being produced
Based on the study results, Dr. Kapadia can guide you and your loved one.
Testicular mapping is a fertility study that is offered at very few centers across the United States. Dr. Kapadia completed his fellowship at one of the country's leading institutions in fertility care and developed expertise in testicular mapping.
As the only male fertility specialist to offer testicular mapping in the Southeast, Dr. Kapadia works closely with all female fertility specialists in the Atlanta area. His ultimate goal is to help guide couples in the right direction with empathy, honesty, and humility. He will give you the most accurate information so that you can make informed decisions for your family. Rest assured, he will go above and beyond in helping create a comprehensive care plan for you and your loved one by partnering with her specialist.